Patsy Fagan Snooker Archives
---
Hailed as one of the most exciting players of the mid-seventies, Patsy Fagan's fall from glory was as dramatic as his rise to fame.
One of 12 children, he was born in dublin, but has spent most of his snooker-playing days in London.
A resident professional at one of the Ron Gross Snooker Centres, he first came to prominence in 1974 when he reached the final of
the English amateur championship, where he was to lose to Ray Edmonds.
Two years later he made an impact on the championship again when he created a tournament record break of 115.
Below is a list of PDF documents with extracts from some of the popular magazines and books about Patsy.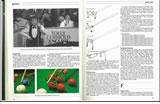 Having failed to reach the 1976 final, Fagan decided to turn professional. He started 1977 with the first maximum of his career - on his 25th birthday in January, (against Dave Gilbert at the Clapton Bus Garage Social Club
The Irishman's reputation was realy established later that year with victories over John Virgo and Doug Mountjoy, a fellow first-year professional, to win the title of UK Professional Champion in a contest sponsored by Super Crystalate.
It's not everyday one meets a snooker great from the 1980s, but i recently had the pleasure of meeting not one but two legends, when visiting the homes of Tony Meo at Morden, south London, and Patsy Fagan in Ruislip.
Excerpt from the Dry Blackthorn Cup (1977)
---
Ladies and Gentlemen,
Welcome to the luxurious Wembley Conference Centre, probably the finest venue to stage a snooker tournament and certainly conducive to the fast growing image of the sport.
This is my first venture into big time snooker promotion and hopefully the start of many more prestigious events. I have great plans for the future of the game and i will be endevouring to make the Wembley Conference Centre the home of World Snooker.
Read more about the 1977 Dry Blackthorn Cup
Q World Articles
---
Below you will find various articles from the Q World Snooker Magazine
Video
---
Click here to take a look at some of the TV footage I have gathered over the years. Look closely and you might even find one or two videos of me!