My Case Studies (Testimonials)
---
Joe Dallarda
---
"I first sought Patsy's help and advice a few months ago when my snooker was, to my great frustration, blighted by inconsistency. 
To be truthful, at the time I was so used to not being able to play well or at least solidly on a regular basis that I was sceptical any coaching would have much of an effect.
How wrong I was; as of today it has only been 3 coaching sessions with Patsy later and I really cannot over estimate the improvement he has helped me to make.  
If you ask me, there are too many coaches out there who (rather lazily in my opinion) just try to force that Steve Davis 'bread and butter' technique on you without taking into account the individuality of each player.
Patsy however is completely different - I was impressed in particular with his ability to tailor his advice to help you become the player that YOU want to be. His knowledge of the game really is second to none and I would urge anybody on the lookout for help with their snooker to contact Patsy. Trust me, the man's a top bloke."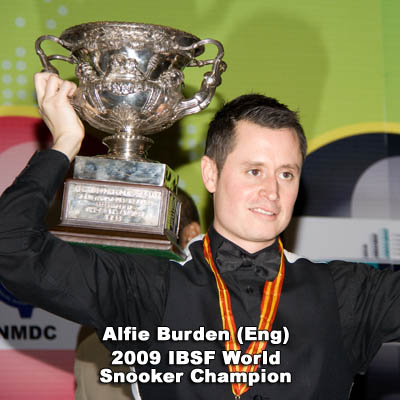 Alfie Burden
"Working with Patsy is an outstanding experience. For me to spend time with Patsy and pick his brains to unlock some amazing knowledge of snooker has helped my game no ends. I have been a professional for 14 years and played and mixed with the best but never met anyone with Patsy's knowledge of the game.
Patsy helped me with my cue action and my striking of the cue ball as well as teaching me to be an all round snooker player. I cant speak highly enough of his knowledge and enthusiasm for the game and am still working with him to get back to where I want to be. All I can say is he is a joy to be around and work with.
Jamie Rous
"Patsy demonstrates the knowledge and coaching ability that you would expect from a former world class player.  His understanding of the game is second to none, so regardless of whether you play at an advanced level or beginner, Patsy's coaching skills and experience will prove invaluable".
Jamie Rous
Rishi Luchmun
"Rishi has improved a lot since Patsy has started coaching him. All aspects of his game has improved tremendously. He is able to cue better, has a good stance when taking each shot and has a good awareness of the game now. Naturally, his potting skills have improved aswell. The lessons received so far have been invaluable. Patsy is extremely patient with Rishi and provides all the instructions clearly and is able to recognise the weaknesses in ones game and continues to work on it until it is rectified.
I would recommend Patsy to any person wanting to improve their snooker game".
Rakesh Luchmun - Parent of Rishi Luchmun
Lawrence Oliver
I have been receiving coaching lessons from Patsy for around 2 months now. I have already seen a great improvment in my game. Patsy has helped and taught me how to cue the white ball effectively and therefore allowing me to gain more control over my positional play. Patsy is a great coach, and a very friendly and welcoming person too which is a great combination to have when coaching a young player like myself. I would highly recommend Patsy to anyone who loves snooker and wants to improve their game.
Lawrence Oliver
Milton Keynes