Dry Blackthorn Cup (1977) Foreward by Mike Barratt (Tournament Sponsor)
---
Patsy Fagan
(1977 UK Snooker Champion)
Alex Higgins
,
Mike Barrett
,
John Spencer
(World Champion) and
David Hall
(Marketing Director, Taunton
Cider Company) holding the Dry Blackthorn Cup
Ladies and Gentlemen,
Welcome to the luxurious Wembley Conference Centre, probably the finest venue to stage a snooker tournament and certainly conducive to the fast growing image of the sport.
This is my first venture into big time snooker promotion and hopefully the start of many more prestigious events. I have great plans for the future of the game and i will be endeavouring to make the Wembley Conference Centre the home of World Snooker.
I have been connected with boxing for 17 years, and i make no apology for that, for i have promoted some of the greatest boxing matches ever witnessed in this country.
But whilst my association with snooker is still in it's infancy, i feel with my past experience with promoting some of the best sportsman, i have something to offer this marvellous game of snooker.
I am indebted to the sponsors, Taunton Cider Co., for helping to make today's spectacular possible, and like me their involvement into snooker is a first.
Today's event sees some of the best players in the world. Three of them John Spencer, Ray Reardon and Alex Higgins have monopolised the world title since 1969 and the young Irishman, Patsy Fagan, who has made his home in London, is the latest star to emerge from the highly competitive professional ranks, by winning the UK title earlier this month.
As you can see from the program i am offering a kings ransom of £50,000 to any player making a maximum 147 break, and each one of them have made that score at least once. We could possibly be witnessing history being made, for it has yet to be done in a major tournament.
I am sure we are all in for a memorable day's snooker, and i hope you will enjoy the wonderful amenities provided by the Conference Centre.
May i also take this opportunity to wish you all a very merry Christmas and a happy new year and hope to see you all again in the very near future.
---
John Spencer
John Spencer - 1977 World Champion
John was something of a child prodigy and made his first century break when only 15. However, at the age of 18, he shocked the snooker followers of his home town Radcliffe, near Manchester, he gave up the game for some ten years before returning in 1964.
He instantly made his mark with a hat-trick of northern amateur title victories (1964-66)and after losing to Ray Reardon and Pat Houlihan in the 1964 and 1965 English amateur finals, took the title in 1966, making a record 102 break in the final for good measure. That same year he finished runner-up to Gary Owen at the World Amateur Championships in Karachi, where once again he notched up two more centuries.
Afte r" potting " around for three years he decided to turn professional and after a chat with his bank manager, raised the £100 entry fee to have a crack at the World professional title.
He made the snooker world sit up by knocking out the holder John Pulman before going on to win the title at his first attempt.
The advent of Spencer revolutionised the professional game. His flair and aggression allied to a remarkable positional touch brought a new dimension to snooker. His brilliant long potting and amazing power even the immortal Joe Davis exclaiming "I don't believe it".
It was his all out attacking style that won him public appeal. Suddenly there were more clubs wanting to book him that there were dates. And although he lost his title the following year to Ray Reardon, he won it back in Australia in 1971, setting up a world record in the final against Warren Simpson with three centuries in four frames.
---
Ray Reardon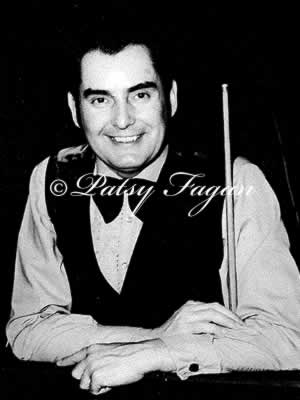 Ray Reardon - 6 Times World Champion
"A Policeman's lot is not a happy one ", so the saying goes, but for five times snooker world champion Ray Reardon, it was a "bobby's job".
Born in the South Wales coal-mining village of Tradegar 44 years ago, Ray spent his early working life , like his father before him, down the pits. And it was a near fatal accident, when he was buried alive at the coal face, that finally made him seek a career on the surface as a policeman with the Stoke Constabulary.
However, it was those early days in wales where, snooker was virtualy a national sport, that gave Ray the schooling in one of the world's most exciting games. While still in only his short pants he showed an uncanny ability to play snooker and it came as no surprise, least of all to the Tredgar population, when he captured the Welsh Amateur title a record six consecutive times (1950-1955).
Despite pounding the streets of the potteries, he never once missed an opportunity to return to Wales, and it was this endearing patriotic that makes him a legend in his county today. " It's not Ray Reardon playing, it's Wales " commented one reporter after one of his world championship wins.
Ray built up an impressive reputation as an amateur and in 1964 he won the much coveted English amateur title, ironically beating his closest rival for the last ten years, John Spencer, in the final. In 1969 he and John turned professional, and after Spencer lifted the world crown at his first attempt, Ray took the title from him the following year in 1970 for the first of his five wins.
From 1973 - 1976 he was invincible with four consecutive world title victories. And it was during those vintage years that he won at some time or another every title that was available. He was Pontin's champion 1974 - 76, Benson & Hedges 1976 and twice a winner of the popular TV series " Pot Black ".
Ray whose strength's are a clever tactical brain and a steel hard temperament, has made the magical maximum break no fewer than six times a feat that has eluded most of the games great's.
Ray has come a long way since those traumatic coal-dust day's in the 50's and is one of snooker's best paid players with reputed earnings between £40,000 and £50,000 a year. Now living in comparative affluence with his wife Susan and two young children at Market Drayton in the midlands, he still remains devoutly Welsh, vividly remembering when he competed in a local Tradegar league six man team of "Reardons" comprising of his father, uncles and brothers.
He lost his World Crown this year to John Spencer and for a time experienced unaccustomed agonies of a loser. But he soon got back to winning ways when he won the inaugural Welsh Professional title from fellow country man Doug Mountjoy in October.
His proudest moment in a star studded career came in 1976 when Eamonn Andrews featured him on " This is your life ". Probably one of snooker's finest ambassadors, Ray retains a quiet but confident modesty that spells trouble for opponents and delight for spectators.
---
Alex Higgins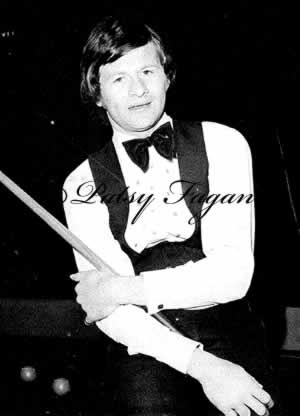 Alex "Hurricane" Higgins - 1972 World Champion
Alex Higgins is regarded generally as the most talented and exciting player to emerge in snooker.
Born within a stones throw of the notorious Falls road district of Belfast 28 years ago, this brilliant, enigmatic and unprecedented Irishman has captured the hearts of millions with his speed and boldness and his amazing array of dazzling shots.
Dubbed " Hurricane " because of his quick-fire potting style, he has probably done more than any other player to bring the game of snooker to the public. Like his fellow countryman George Best, Alex is rarely out of the headlines as stories of his flamboyant lifestyle follow him wherever he goes.
Not just a snooker player but a showman, an artist, an entertainer, it's his search for the perfection of his trade that often gets him into trouble. He learned to play at the age of ten in a Belfast billiard hall called the "Jampot", but it was his love of horses that first brought him to England as an apprentice jockey at Eddie Reavey's stables in Berkshire. Unable to keep his weight, Alex drifted back to Belfast where he "hustled" for a living.
In 1968, still only 18, he won the Irish amateur title but it was his breath-taking play in the British team championships final, where he almost single-handedly won the title for his side YMCA, that set the snooker world buzzing. Ironically it was his idol, John Spencer who eventually started him on the path to fame and fortune. John, who had just won had just won his first professional world title in 1969, was asked to play alex in a 41 frame challenge match in Bolton.
The youngster, receiving 14 points start, beat the master 21 - 19 to a reception more in keeping with cup final football that the sedateness of snooker. Alex was big box-office as thousands flocked to see his wizardry on the table. A fairy-tale debut in the 1972 world professional championships saw him, at 22, become the youngest player ever to hold the crown and only the second man, emulating Spencer's feat, to win the title at his first attempt.
---