Q World Article - Fagans Honour - April 78
---
Henry West
takes it on the chin from British Champion
Colin Powers
Patsy Fagan was honoured as one of the Irish Posts 'Sports Star Of The Year' at the plush New London Suite, Drury Lane, recently.
The Irish Post is infact a British-based paper - 'The voice of the Irish in Britain' - and although it has regularly Patsy's career for the last three years through it's snooker corespondent John Carty, this was the first time patys had won an award.
Among the other award winners footballers Steve Heighway and verteren Peter Doherty (who was elected to the hall of fame). British light welter weight boxing champion Colin Powers and Jockey Tommy Stack of Red Rum fame who won the overall award.
Unfortunately Patsy could not attend the presentation as he had a long-standing booking to play John Virgo in manchester but manager Harry West and fiancee Elaine Saunders represented Patsy and collected a fine solid silver trophy on his behalf.
The hospitality laid on by the Irish Post and co-sponsors B + I Shipping Lines was very impressive as was the entire organisation of this, a great Irish night to remember.
That Great Velvet Touch
---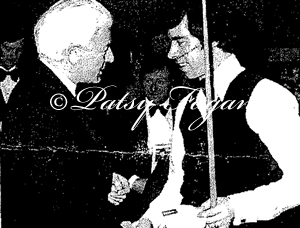 John Peachey
presenting Suffolk Invitation Professional
Tournament winner
Patsy Fagan
with his £250 first prize.
In the background the badly off-key Dennis Taylor looks
on thoughtfully.
Patsy Fagan's superb show in the Suffolk Invitation Professional Tournament was somewhat overshadowed by a rumpus involving Alex Higgins.
The fiery Higgins left tournament sponsor Mr John Peacey fuming and vowing never to bring him to Ipswich again after Higgins had threatened to walk out on the final night of the popular east anglian show.
The unasuming Fagan had just clinched the 13 frame final by taking the tenth frame to go into an unassailable lead when Higgins alledged that local referee Nobby Clarke had moved and caused him to miss a vital shot.
Referee Clarke who did not appear to have moved, stood red-faced and the 500 packed audience at the Ipswich Corn Exchange watched with baited breath as Higgins told John Peachey that he did not want to continue to play out the last three frames inless there was a side bet.
Mr Peachey refused to put up a side bet but after Higgins threw down £100 Fagan reluctently agreed to match it. To the crowds delight Fagan continued to show the brilliant velvet touch snooker that had been the highlight of the tournament and duly took the first two frames to win the bet.
Higgins left without bothering to pick-up his £175 runners-up cheque as Fagan announced that he would be asking John Peacey to donate Higgin's £100 to a local charity.
"Higgin's behaviour was disgusting", said John Peachey "I may mellow in time but at the moment i feel as though i never want to have Alex Higgins here again. Getting back to the snooker Fagan showed this fourth and best ever supported Suffolk Tournament crowd over the two days a total of 1,150 paying customers, just why he has done so well since turning professional.
In his semi-final he has an almost embarrisingly easy victory over off-form Dennis Taylor, winning 7-2. In the process he notched the best break of the tournament - a 100 clearance break and he followed this up with a 91 clearance in the fourth frame of the final which Higgins got off to a 2-0 frame start.
In his semi-final Higgins beat Doug Mountjoy 5-4 but the welshman saved his best for the third and fourth place final when he had a comfortable win over the sad Taylor.